Episodes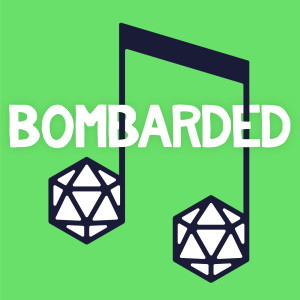 Tuesday Jul 31, 2018
Tuesday Jul 31, 2018
Spurrier's Back and ready for action! No time to celebrate though - the bards are face-to-face with an extraterrestrial brain with untold power. Add Squid and a few Gils into the mix, and it's a recipe for trouble. Can Chaos Sauce bring the heat in this kitchen? Listen in to find out!
Also, we are going to be pulling the bardlib episodes that we did from the podcast stream, but the individual songs and whole episodes will be available on our bandcamp page if you'd like to listen to/download them.
In addition to the bardlibs, we also put up the choral "Oh Yea" that Spurrier plays when a Natural Twent is rolled, as well as the two Natural Twent songs that Goodrich played those two times for Kyle. Those are available in our BomBARDed Bits album on our bandcamp page.
We're also going to keep doing giveaways during months when we release three episodes instead of the regular two (Read: any month with a 5th Tuesday in it), so keep an ear out for those as well!
bomBARDed website: http://bombardedcast.com
bombBARDed bandcamp: http://bombarded.bandcamp.com 
Comments
(1)
To leave or reply to comments, please download free Podbean or